<img alt="Cycle the Month: Choose Your Challenge in August" src="https://images.prismic.io/virtual-events/19745eb1-12cc-4c64-8b0b-3f22133031ad_6383+Cycle+the+Month+Aug+2021_homepage+banner_6_1480x450.jpg?" style="width:100%;height:auto;"/>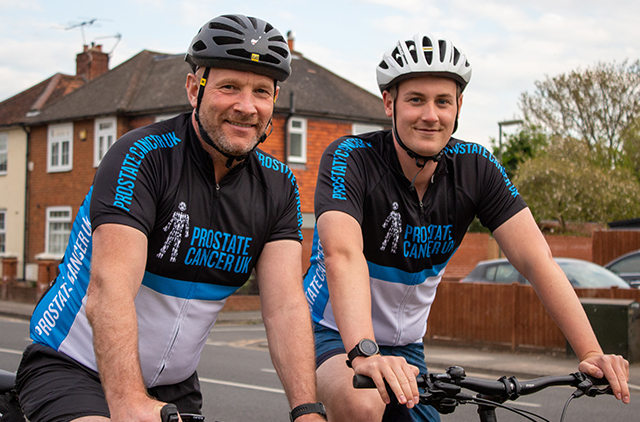 Cycle the Month this August
Cycle the Month: Choose Your Challenge is a virtual challenge for cyclists everywhere. Cycle 100, 200 or 300 miles your way throughout August. Complete your miles over a day, a weekend, a week or a month and help beat the most common cancer in men. Take on the challenge alone or in a team and track and share your progress using Strava to keep an eye on your mileage. Whether you're a keen rider or a cycling novice, Cycle the Month and help fund lifesaving research to beat prostate cancer.
The money you raise by taking part in Cycle the Month will fund lifesaving research and support services for men and their families affected by the disease, like Asif.
Asif was inspired to cycle 100 miles his way for Prostate Cancer UK after losing his dad, Abul, to prostate cancer in 2019.
Joined by a team of friends, Asif tackled last year's challenge and saddled up again back in May in his dad's memory.
"My dad was my rock," he said. "I could sit and cry about my dad, but he wouldn't like that – he wasn't that sort of guy. He always told me to do the best I can in whatever I do. If I could show him what I'm doing, he'd be tickled pink.
"There are so many stories of prostate cancer – it affects so many men. Cycle the Month helped process my feelings of loss and it turned a negative into a massive positive."